ZIGGY 4+2 LIFTED ELECTRIC 4 KW 6 SEAT GOLF CART
AffordableFUN The ZIGGY 4+2 LIFTED ELECTRIC 4 KW GOLF CART 48Volt Toyota® 4 KW AC Motor Controller for greater torque and distance.  Specific color please call to order 714.888.5114 ... SHIPPING NATION WIDE PLEASE CALL FOR QUOTE.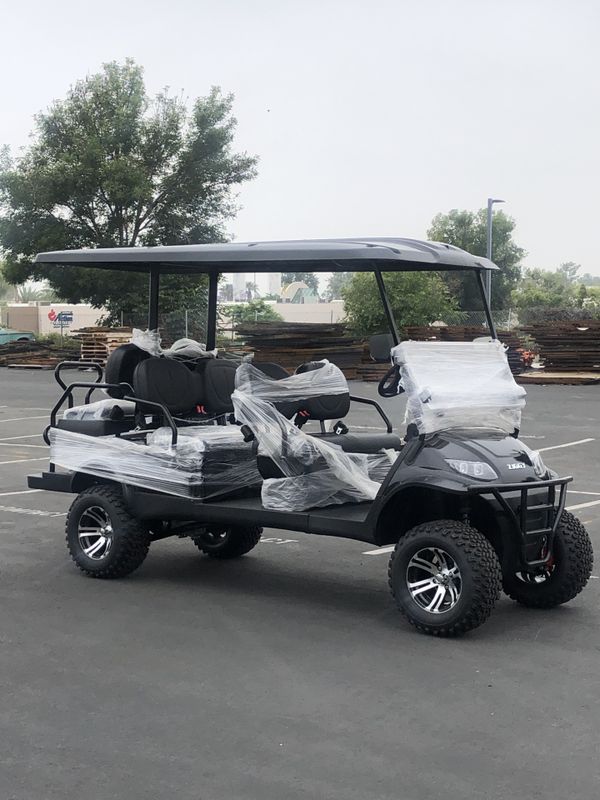 SPECIFICATIONS
48Volt Toyota® 4 KW AC Motor Controller
Comes standard with a 48Volt Toyota® 4 KW AC Motor Controller for greater torque and distance
Factory-installed 6″ heavy-duty coil-over suspension lift
Electro-Magnetic parking brake for safe parking reassurance as you exit your cart
Assembled at our corporate office located in the USA and ship fully assembled to your location.
LED lighting for the front and rear in order to maximize visibility in the dark and to alert other drivers on the road to be aware of your presence
Four-wheel hydraulic disc brakes maximizing your stopping power in order to reduce common accidents or damage to property
Colored seating in order to customize your costumers' cart and improve profit margins
US Brand batteries in order to maximize range and efficiency
Introducing a new style body that will gain the interest of many prospects thinking about purchasing; turning them into a "buying" customer
Everything is DOT approved in order to provide you with a full 17-digit VIN so that you may register the cart for street legal commutes…
Plastic Foldable Windshield included
Many more features come standard with our vehicles in order to reduce the hassle of up-selling the customer to maximize your profit
There is nothing basic about our golf cars! They come standard loaded with class-leading features such as:
Seat belts
10″ aluminum wheels/12" aluminum wheels
Wanda Tires
USB Drive input
LED headlights and brake lights
Turn signals
High-speed/High Torque rear end
Functional front and rear bumpers
Painted extended rooftops
Horn
Digital Color Dash Gauges and more….
*** Optional LSV Street Legal Package***
---
We Also Recommend